UI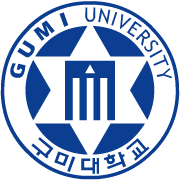 Gumi University stands for Diligence, Creativity, Pride
The University insignia is the foundational element of the University's identity. It represents the image of Gumi University's substance as well as its attributes. Simultaneously, it plays a key role in the visual communication of the University's image. Moreover, the University changed its name to Gumi University in 2012 to celebrate its 20th anniversary. During the renaming process, the University partially revised its logo design, which was a representation of a 'star,' a symbol that signified excellence, distinction, the University's aspirations to help students shine and turn them into the 'stars' of their lives.

Logotype
The logotype is a foundational element that plays a critical role in Gumi University's identity system. It was custom-designed to match the University's insignia. The proportion of the logotype was adjusted for each letter. As such, the font must not be adjusted without permission.

Signature
Together, the insignia and logotype form the University's signature. As seen in the sample image on the left, it combines the symbol mark and insignia to form a display system that directly expresses the image of the University. Different types are used with consideration to the circumstances prevailing on the chosen medium in terms of available space, layout, etc.

WCC accreditation logo
The WCC accreditation logo signals that the University has been selected as a flagship World Class College of Korea by the Ministry of Education

Character
The character functions as a catalyst that connects the University and its students on a friendlier level. The character supplements the somewhat static image of the insignia, and it offers the advantage of being pliable enough for a variety of different mediums. Combined with other visual elements, it can become a visual symbol that conveys the image of Gumi University in a more natural way. The Gumi University character personifies the image of the University (star: morning star) which plays a critical role in developing human resources in today's cutting-edge digital world. Because the facial expressions, colors, gestures, etc. can be adjusted as required, the character is used in order to promote the University.

20th-anniversary emblem
When Gumi University turned into an adult of its own right upon its 20th birthday, it produced and announced an anniversary emblem to celebrate the occasion. To express the trust and passion of a 20-year-old young adult, it featured a blue color that symbolized trust and a red color (gradually turning into purple) that symbolized youth and passion for a "smart" world. The number 20 overlaps with a shape that resembles a swan sitting down gracefully.